NOAA Proposes Fishing Regulations in Gulf of Mexico
NOAA is considering an amendment to the current Fishery Management Plan for Coral and Coral Reef Resources in Gulf of Mexico. The amendment establishes new and modifies existing habitat areas of particular concern (HAPC), specifically coral habitats. An HAPC is a subset of essential fish habitat that is either ecologically important, sensitive to human degradation, currently stressed, or rare. Being essential fish habitat means that these coral reefs are essential to fish for spawning, breeding, feeding, or growth to maturity. With the potential passage of this amendment, NOAA hopes to protect these essential coral habitats against further degradation and aid in ensuring healthy fish populations.
There are four main facets of the current proposal:
1. Establish 13 new HAPC that prohibit bottom-tending gear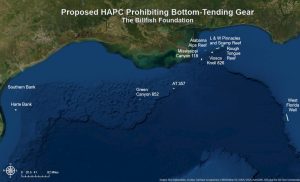 2. Establish 8 new HAPC that do not include any fishing regulations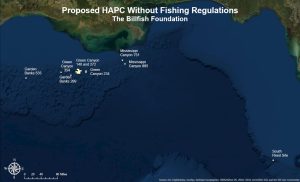 3. Modify the existing Pulley Ridge HAPC to designate an area within it which would prohibit bottom-tending gear with the exception of allowing bottom long line gear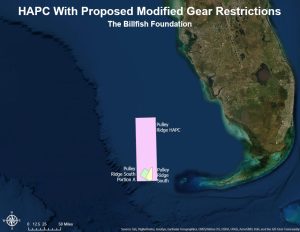 4. Establish 2 new HAPC areas that prohibit bottom-tending gear but allow shrimpers to keep nets in the area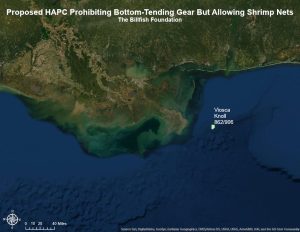 Bottom-tending gear includes bottom long line, bottom trawl, buoy gear, dredge, pot or trap, and bottom anchoring by fishing vessels so those fishermen who use could be directly affected. It does not include HMS buoy gear. It is important to understand that this gear will not be allowed to come into contact with the water at all in these areas, regardless of the intent to fish. However, according to NOAA, very little fishing activity is known to take place in these areas.  If you fish in any of those areas, please be sure to comment.
A full copy of the proposed amendment is available here. Comments for this initiative are due by November 25, 2019 and can be submitted here. We will be submitting our comments and sharing them with you as the date comes closer.
To stay up-to-date on all things billlfish and sportfishing, subscribe to our monthly newsletter, become a member, and follow us on social media, @TheBillfishFoundation.
https://billfish.org/wp-content/uploads/2019/10/MadSwanOctocorals.jpg
1127
1502
Faith Benner
https://billfish.org/wp-content/uploads/2017/07/logo_small_color.png
Faith Benner
2019-10-30 15:22:39
2020-07-14 09:15:49
NOAA Proposes Fishing Regulations in Gulf of Mexico