Member Survey Helps Focus Priority Areas
The Billfish Foundation recently sent a survey to its members in order to better understand the concerns and wants of our constituents. Over 100 responses have been recorded, which TBF intends to use in refining our approach to our mission of advocating for sustainable billfish policies and fighting for anglers' rights.
The first question of the survey simply asked why the respondent became a member of The Billfish Foundation. A large majority of respondents had the expected answer—to help conserve or preserve billfish—while others cited the pure enjoyment of fishing for these species. Another expected answer came when respondents were asked if they were concerned about billfish, to which 97.4% replied yes and just 2.6% replied no. Immediately following that question, survey respondents were asked what about billfish concerns them. A majority cited pressure from commercial fishing (91.4%), followed by reduced populations (68.1%) and lack of protections (51.7%); fewer said pressure from recreational fishing (21.6%).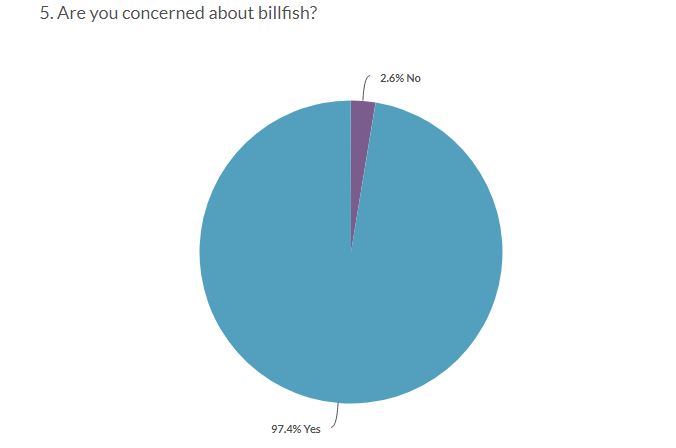 Encouragingly, 78.4% of survey respondents were familiar with some of the recent research projects TBF has conducted, such as our billfish age and growth study, work on fish aggregation device management, and socioeconomic studies of sportfishing.
Less promising was the number of respondents who had attended a TBF event: only 34.5% said they had, while 65.5% said they had not. The most common type of event respondents have been to was a tournament where TBF was present. We are most busy with tournaments over the summer, and throughout 2018 the TBF team will attend over a dozen. However, we also hold a gala each year in November, our single largest event of the year, as well as an awards ceremony in February honoring the winners of our International Tag & Release Competition. Plans are also underway to bring smaller, interactive events to our constituents' communities, considering the most cited reason for not attending a TBF event was inconvenient location.
The last several questions were particularly insightful. For the question "What would you like to see more of from TBF," options were provided. A majority of respondents (64.3%) selected Advocacy, followed by Research (56.5%), Fishing-related content (43.5%) and Merchandise (19.1%). These responses reaffirm TBF's role as voice for the angler and for the fish. We comment on issues from Australia to Costa Rica and are involved with as many fisheries conferences as funds will allow. We also fund billfish research and continually look at how we can make use of our tagging data. As for providing fishing content, our partners such as Casa Vieja Lodge and Costa Sunglasses are perfectly positioned to be a source of content for our publications. Get in touch if you are interested in providing fishing content such as trips, tips and reviews.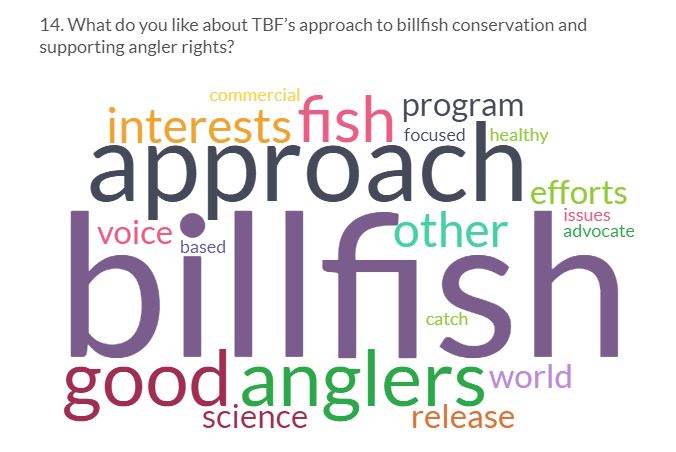 Finally, we learned a lot when we asked survey respondents how they believe TBF could improve its approach to billfish conservation and supporting angler rights. Several responses touched on points we are already addressing, such as more local events, continuing our policy work, and encouraging tag and release at tournaments. A common suggestion was increasing TBF's presence in other nations as billfishing grows as a sport and interest in conservation increases.
TBF thanks all of the members who responded to our survey earlier this year. If you have further suggestions for TBF, feel free to send us a message. If you are not a member, you can join The Billfish Foundation here.
https://billfish.org/wp-content/uploads/2018/04/survey-Q14.jpg
452
676
HeatherS
https://billfish.org/wp-content/uploads/2017/07/logo_small_color.png
HeatherS
2018-04-12 14:27:50
2018-04-12 14:27:50
Member Survey Helps Focus Priority Areas