White Marlin Conservation Record 2019
The Billfish Foundation maintains the largest private tag and release database in the world, with over 260,000 records. In 2019 alone, over 11,000 new tag, release, and recapture records were added to this database, representing an enormous amount of data to help us learn more about billfish life history. Of these over 11,000 new records in 2019, 528 were of white marlin, including four white marlin recaptures. 32.1% of white marlin were released without tags, while 67.9% were tagged. To learn more about how to identify a white marlin, check out our youtube channel!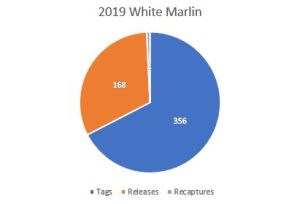 Tags:
356 white marlin were tagged with TBF tags in 2019. This enormous feat was achieved through the combined efforts of 117 anglers and 59 captains. White marlin are relatively small in comparison to other marlin species, and on average weighed 59.3lbs (26.9kg).
White marlin are endemic only to the Atlantic Ocean. As such, there were only eight countries from which white marlin were tagged; USA, Dominican Republic, Bahamas, Bermuda, Puerto Rico, Spain, Morocco, and Brazil. North America represents the largest effort, with 232 of the total 356 white marlin tagged there. Within Eastern North America, white marlin were tagged off of the Northeastern US, Gulf Coast (offshore of Texas, Louisiana, and Florida), and in/near the Bahamas and Dominican Republic. These locations were heavily tagged by anglers Jill and Scott Yates and Darren Helwig, as well as captains Mark Pagano and John Meade.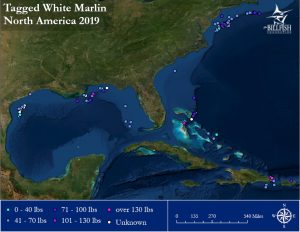 White marlin were also tagged in Morocco and off South America. Captain Christian Benazeth and angler Laurent Sahyoun are responsible primarily for these tags, as can be evidenced by the many years of sweeping the white marlin tagging division of the TBF Awards.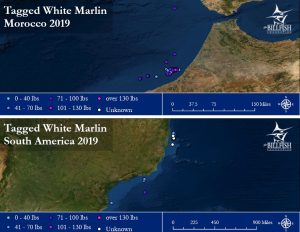 White marlin had the most clear tagging seasonality of all reported billfish species. Tagging was limited to any significant degree to between the months of May and September, with the largest tagging density occurring in August.

Releases:
168 white marlin were released without tags in 2019. Similar to tagging, these fish were released off of the USA, Bermuda, Bahamas, USVI, El Salvador, Dominican Republic, Mexico, Angola, and, of course, Morocco. In sharp contrast to tagging, however, only 34 anglers and 26 captains contributed to white marlin releases in 2019. Once again, the primary shoulderers of this effort were Morocco-based angler Laurent Sahyoun and Captain Christian Benazeth.
Once again, Morocco represented itself as a hot spot for white marlin activity. Besides the one release in Angola, it is the only country from which white marlin were released without tags on the East side of the Atlantic.
White marlin releases mirrored the same distribution pattern as tags. White marlin were not released at all during the winter months, then release levels went up slightly in the late spring and early summer before peaking in late summer and early fall.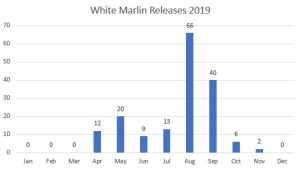 Recaptures:
Four white marlin recaptures occurred in 2019. Most excitingly, these four recaptures were in three different locations, exemplifying white marlin's cosmopolitan nature. The time at large varied immensely for these recaptures, with the Moroccan recapture occurring after only one month while one tagged off of Maryland was recaptured an incredible FIVE years later! Also worth noting is the date of these recaptures. Northeastern US saw all tags and recaptures occurring in August and September, as did Morocco, while Puerto Rico's recapture had both interactions in April and May. Information like this is extremely important, as it allows TBF and our partner researchers to piece together migration patterns of white marlin to better understand where they are at different times of the year.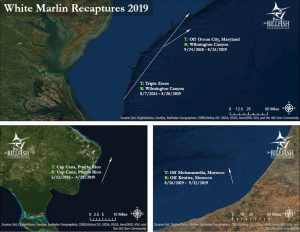 For more information about The Billfish Foundation's Tag and Release Program, check out the tagging section of our website. To purchase tagging equipment and TBF gear, check out our online shop! To stay up to date with all things billfish, subscribe to our monthly newsletter, become a member, and follow us on social media, @TheBillfishFoundation.
https://billfish.org/wp-content/uploads/2020/04/White-marlin-_-brant-Wise-2.jpg
2036
2306
Faith Benner
https://billfish.org/wp-content/uploads/2017/07/logo_small_color.png
Faith Benner
2020-04-03 07:30:54
2020-12-12 14:19:05
White Marlin Conservation Record 2019