TBF Swordfish Data Represented at ICCAT Meeting
Through its 30-year old tagging program, supported by 190,000 voluntary angler-reported tag reports from around the world, The Billfish Foundation (TBF) assists scientists in gaining a better understanding of billfish's life history characteristics, including growth, reproduction, yearly movement and survival.  Rare is it to receive tagging data from the Mediterranean Sea, but recent tagging by captsins Rudy and Samuel Urbain provided such a surprise.
In March, Drs. Folio Garibaldi and George Stirpes presented swordfish tagging data at a meeting of the Swordfish Species Group, within the International Commission on the Conservation of Atlantic Tunas) to help gain a better understanding of status of swordfish stocks in the Mediterranean Sea. Five reported TBF tagged swordfish recaptures during 2019 were highlighted in the presentation.  These were the first reported TBF tagged swordfish recaptures in the Mediterranean Sea. Tagging increases will contribute to a better understanding of the species in the Mediterranean Sea thanks to the contributions of anglers, mates and captains for which we are grateful.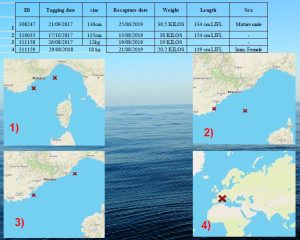 Learn more about our tagging program here and get started today!
To stay up-to-date on all things billfish, subscribe to our monthly newsletter, become a member, and follow us on social media, @TheBillfishFoundation.
https://billfish.org/wp-content/uploads/2020/08/sword-article.jpg
619
885
Faith Benner
https://billfish.org/wp-content/uploads/2017/07/logo_small_color.png
Faith Benner
2020-08-17 09:00:59
2020-12-12 13:24:01
TBF Swordfish Data Represented at ICCAT Meeting