Tag & Release Competition Rule Changes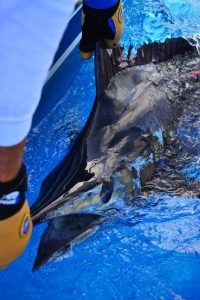 Our tag and release competition is a popular and fun way for anglers/crews to be involved in supporting TBF and billfish science since 1990. With numerous categories that vary by ocean and species there are dozens of ways people can be recognized for their conservation efforts. After listening to all of you, starting on November 1, 2020 our tag and release competition will be amending several regional categories and adding a new category for swordfish. Please note, this does not apply for the current competition (November 1, 2019 until October 31, 2020).
TBF will put more emphasis on tagging, specifically in the regional competitions. Moving forward, all regional competitions (except South Florida) will ONLY recognize tagging categories. We want to see more tagging data in those areas and hope this will spur more tagging (and recapture) efforts in those areas. Additionally, due to the increased popularity of our swordfish category we are introducing a commercial category. We established this category after considering commercial fishermen's encounter rate, the fact they would provide even more critical tag data and that many of them are also recreational fisherman who already tag. This would also give those who are strictly recreational a chance to win an award. Those who are both a recreational and commercial fisherman must notify TBF on what designation they would prefer for the competition.
If you want to learn more about our tag and release competition, please visit the Competition portion of our site. Remember, you do NOT need to be a member to participate! To stay up to date with all things billfish, subscribe to our monthly newsletter, become a member, and follow us on social media, @TheBillfishFoundation.
https://billfish.org/wp-content/uploads/2020/04/DSC_3794-scaled.jpg
2560
1707
Faith Benner
https://billfish.org/wp-content/uploads/2017/07/logo_small_color.png
Faith Benner
2020-04-21 09:00:36
2020-12-12 14:09:15
Tag & Release Competition Rule Changes