Sailfish Conservation Record 2019
The Billfish Foundation maintains the largest private tag and release database in the world, with over 260,000 records. In 2019 alone, over 11,000 new tag, release, and recapture records were added to this database, representing an enormous amount of data to help us learn more about billfish life history. Of these over 11,000 new records in 2019, 5,280 were of sailfish, including an incredible 34 sailfish recaptures. 73.6% of sailfish were released without tags, while 26.4% were tagged. To learn more about how to identify a sailfish, check out our youtube channel!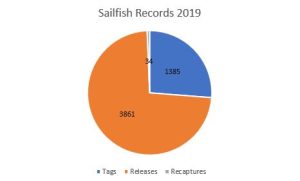 Tags:
An incredible 1,385 sailfish were tagged for TBF in 2019. Of these, 865 were tagged in the Atlantic, 264 in the Indian, and 256 in the Pacific. 500 individual anglers with 126 captains tagged in 2019, representing 17 countries; the USA, Angola, Brazil, Honduras, Belize, The Bahamas, Seychelles, Mexico, Australia, Dominican Republic, Grenada, Guatemala, Malaysia, Costa Rica, Curacao, Panama, and Zanzibar! Sailfish were fairly small on average, 49.3lbs (22.4kg).
The largest concentration of sailfish tagging effort was North America, and the largest concentration in North America was in Florida, thanks to the efforts of anglers like Jill and Scott Yates with Captain Mark Pagano, as well as sailfish regulars like Captains Bouncer Smith and Nicholas Gonzalez. North American sailfish tagging was also dense in countries like Costa Rica, crediting a huge proportion of the catch to Fish Tank team, Laura Jessen and Ben Horning. Sailfish tagging is also up in the Indian Ocean thanks to teams like Australian Kelly and Bomber Farrell, Perry Rosalie, and Seychelles-based Mike Mason.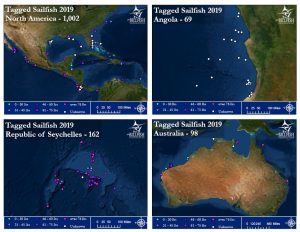 Unsurprisingly, sailfish tagging followed a very seasonal pattern. Very low in the summer months, tagging began increasing in the fall, taking a small dip in December, and then peaking in the spring. February, March, and April are peak months for sailfish tagging, which steeply drops off in May.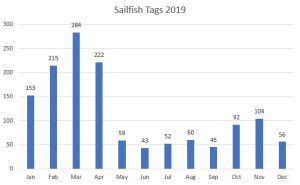 Releases:
If 1,385 sailfish tags seemed like a lot, the 3,861 sailfish released by TBF members in 2019 is nothing short of exceptional. 668 of these fish were released in the Atlantic, 213 in the Indian, and the vast majority, 2,980, in the Pacific. Interestingly, far less anglers and captains, 236 and 65 respectively, were responsible for the whole of the release effort. Sailfish were released without tags in the USA, Mexico, Dominican Republic, Costa Rica, Australia, Grenada, Guatemala, Malaysia, Angola, Kenya, the Bahamas, Panama, Brazil, and the Seychelles.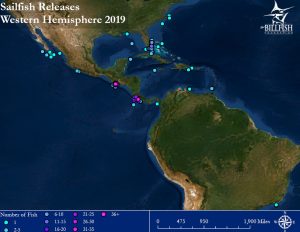 The brunt of the Atlantic releases were accomplished by anglers Luke Lulfs, Jill Yates, and Jacob Lepera in Florida, along with Captains Dean Panos, Travis Ralph, and Mark Pagano. The Pacific effort was spearheaded by Captains Jason Brice and Chris Sheeder and anglers Gray and Camila Ingram. The Indian effort was led by Captains Eddy Lawler and Calvin du Plessis and anglers Rowan and Kerrie Smith.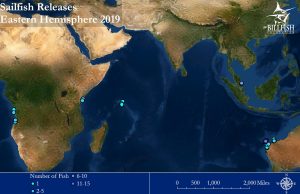 Sailfish releases followed the same temporal pattern as tags. Release numbers rose in the early months of the year, peaking in March, before plummeting in the summer. Unlike tags, sailfish releases stayed consistently low for the remainder of the year.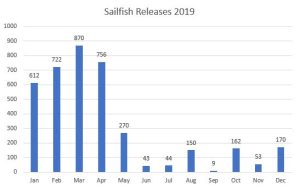 Recaptures:
A total of 34 sailfish were recaptured in 2019 (please note only those reported by the beginning of 2019 are mapped below). The largest proportion of these, 18, were both tagged and recaptured in or near Floridian waters. These Florida-based recaptures spanned up to 4.5 years and as little as just one year. More importantly, though, is the clear migration patterns that can be seen when all of these are mapped together. Sailfish are hugging the coast and moving up and down South Florida, turning off and moving down into the Caribbean after the northern Keys. Having data that perfectly outlines this migratory relationship is vital in our efforts to prove the need for inter-Caribbean management of this species.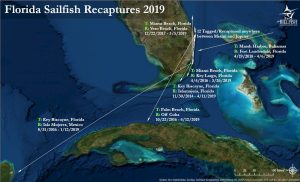 Sailfish were recaptured in more than just Florida. Shorter term recaptures were found in Malaysia and Costa Rica, which, despite being an ocean apart, both show the recaptured fish staying within the same waters for a month, an important piece of information in itself. Within a single area of Australia (thanks Bomber Farrell), five sailfish were recaptured in 2019, all of which had been tagged between September and November of 2018 or 2019. Looking at the months that these fish are tagged and recaptured help us paint a picture of where these fish are going. They are found in the Northeast Pacific and Northwest Atlantic in the early months of the year, and the South Pacific in the late months of the year. Because of your efforts, TBF is able to make finite provable assertions regarding where these fish go and when, vital information for their management and conservation.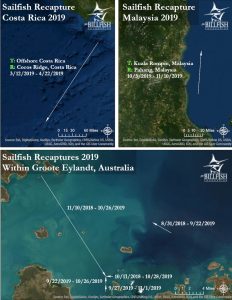 All of what the TBF Tag & Release Program does is only possible through the dedicated efforts of the anglers, mates, and captains that get out there on the water and tag and release. You are the real conservationists, and we are so grateful for you. For more information about The Billfish Foundation's Tag and Release Program, check out the tagging section of our website. To purchase tagging equipment and TBF gear, check out our online shop! To stay up to date with all things billfish, subscribe to our monthly newsletter, become a member, and follow us on social media, @TheBillfishFoundation.
https://billfish.org/wp-content/uploads/2020/04/smaller-sail.jpg
725
768
Faith Benner
https://billfish.org/wp-content/uploads/2017/07/logo_small_color.png
Faith Benner
2020-04-09 12:05:50
2020-12-12 14:17:30
Sailfish Conservation Record 2019