NOAA Fisheries Seeks Public Input on Gulf of Mexico Aquaculture Environmental Impact
To identify Aquaculture Opportunity Areas (AOA), NOAA uses science-based guidance, economic assessments, and social support.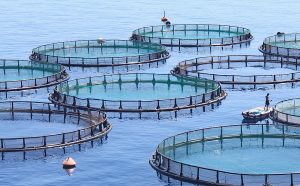 Key Message:
NOAA Fisheries is inviting public comments to identify one or more Aquaculture Opportunity Areas (AOA) in the Gulf of Mexico.
The programmatic environmental impact statement wants to assess the environmental impacts of siting aquaculture facilities in different locations in federal waters in the Gulf of Mexico.
Identifying AOAs is an opportunity for NOAA to use best available science-based guidance on sustainable aquaculture management, and support environmental, economic, and social sustainability.
Why Is This Happening?
On May 7, 2020, the White House issued an Executive Order on Promoting American Seafood Competitiveness and Economic Growth (E.O. 13921), which requires the Secretary of Commerce to identify suitable areas for commercial aquaculture and assess the impacts. Essentially, the proposed action is needed to address the increasing demand for seafood, assist with long-term planning for marine aquaculture development, and address interests and concerns regarding offshore marine aquaculture siting.
NOAA Fisheries selected the federal waters in the Gulf of Mexico as one of the first geographic regions and we want to make sure your voices are heard on this issue.
How You Can Get Involved:
Public input is critical in identifying AOAs in the Gulf of Mexico. On June 1, 2022, NOAA Fisheries published in the Federal Register a Notice of Intent to prepare a programmatic environmental impact statement and to conduct public scoping meetings (87 FR 33124, published June 1, 2022). That action initiated a 60-day public scoping period that will close on August 1, 2022. During this time NOAA Fisheries seeks public comments to inform the scope and content of the programmatic environmental impact statement. Comments can be submitted electronically, by mail, or verbally at one of three upcoming virtual public scoping meetings.
Wednesday, June 8, 2022, 6:30 p.m. – 8:30 p.m. CDT/7:30 p.m. – 9:30 p.m. EDT
Thursday, June 16, 2022, 5:30 p.m. – 7:30 p.m. CDT/6:30 p.m. – 8:30 p.m. EDT
Tuesday, July 12, 2022, 6:30 p.m. – 8:30 p.m. CDT/7:30 p.m. – 9:30 p.m. EDT
For more information on how you can attend these virtual scoping meetings and how you can participate in the public scoping process, please visit the Get Involved: Public Comment section of the Gulf Aquaculture Opportunity Area PEIS webpage.
To stay up to date with all things billfish and those issues affecting the offshore world, become a member, subscribe to our newsletter, and follow us on social media, @TheBillfishFoundation.
https://billfish.org/wp-content/uploads/2017/07/logo_small_color.png
0
0
Thomas Morrell
https://billfish.org/wp-content/uploads/2017/07/logo_small_color.png
Thomas Morrell
2022-06-03 15:56:21
2022-06-03 15:56:21
NOAA Fisheries Seeks Public Input on Gulf of Mexico Aquaculture Environmental Impact