Blue Marlin Conservation Record 2019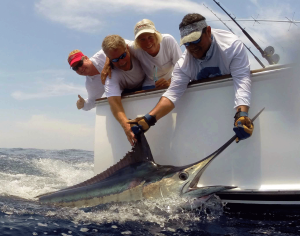 The Billfish Foundation maintains the largest private tag and release database in the world, with over 260,000 records. In 2019 alone, over 11,000 new tag, release, and recapture records were added to this database, representing an enormous amount of data to help us learn more about billfish life history. Of these over 11,000 new records in 2019, 2,079 were of blue marlin, including 12 blue marlin recaptures. 47.6% of blue marlin were released without tags, while 52.4% were tagged. To learn more about how to identify a blue marlin, check out our youtube channel!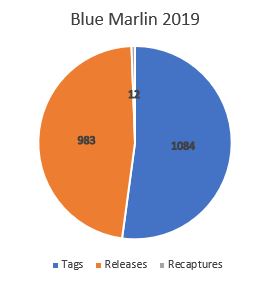 Tags:
1,084 blue marlin were tagged by TBF members in 2019. Of these, 405 were in the Atlantic, 580 in the Pacific, and 99 in the Indian Ocean. This effort was shouldered by an incredible 428 anglers and 187 captains. On average, tagged blue marlin were 226.1lbs (102.6kg).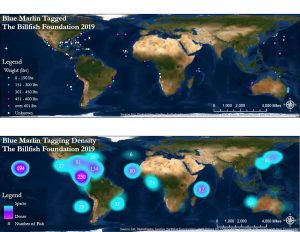 Blue marlin were tagged in an incredible 28 countries: USA, Bahamas, Cote d'Ivoire, Guam, Seychelles, New Zealand, Australia, Azores, Mexico, Bermuda, Cape Verde, Dominican Republic, Costa Rica, El Salvador, Guatemala, Honduras, Japan, Curacao, Peru, Puerto Rico, Ecuador, Angola, Brazil, Jamaica, US Virgin Islands, Belize, Grenada, and South Africa.
Roughly half of blue marlin tagged were in North American waters. This is thanks to anglers like Jill and Scott Yates, Jose Anton, and Gray Ingram and captains like Skip Smith, Mark Pagano, Ken Ross, and Chris Choy. Especially high tagging densities are seen off Hawaii, Louisiana, Costa Rica, and Guatemala.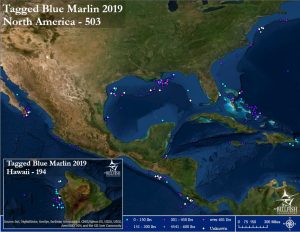 In addition to North and Central America, blue marlin tagging density was particularly high in Cape Verde, Japan, and Brazil. Anglers like Kumie Saegusa spearheaded the Japanese effort, and Batian Craig, Mike Mason, and Malan Horak dominated the Pacific. Top contributing captains included Stuart Simpson, Igor Assad, and Perry Rosalie.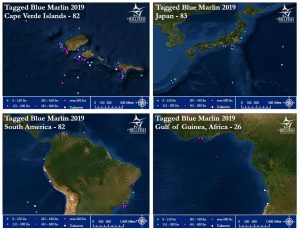 Blue marlin tagging was very seasonal in 2019. Low in the winter months and peaking in the summer, there is a fairly even distribution from September to April.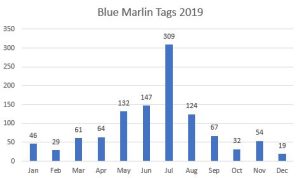 Releases:
983 blue marlin were released by TBF members in 2019. Similarly distributed to tags, 456 were in the Atlantic, 473 in the Pacific, and 54 in the Indian Ocean. Far fewer people were involved in the release effort than the tagging effort, 198 anglers and 70 captains.
As with tags, an enormous number of countries were involved in the releases of blue marlin, including the Bahamas, USA, Bermuda, Mexico, Dominican Republic, Cape Verde, Costa Rica, Australia, Japan, Curacao, Sao Tome and Principe, Portugal, Ecuador, Turks and Caicos, Seychelles, South Africa, US Virgin Islands, Kenya, Cote d'Ivoire, El Salvador, Guatemala, and Spain.
Once again, North America shouldered a substantial portion of the release effort. Hot spots included Baja Mexico, Louisiana, Hatteras, Costa Rica, Guatemala, and the Dominican Republic. This is thanks especially to anglers like Mike Brauser and Gray Ingram, and captains like Chris Sheeder.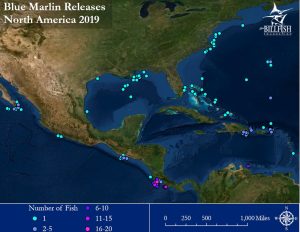 North America was not the only locality with high blue marlin releases. Captains like Zak Conde, Bertrand Bouchard, Calvin du Plessis, and Eddy Lawler represented Australia, Cape Verde, and parts of Africa exceptionally well.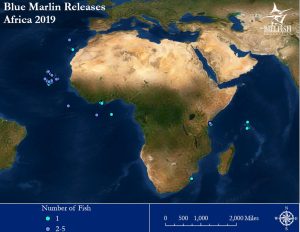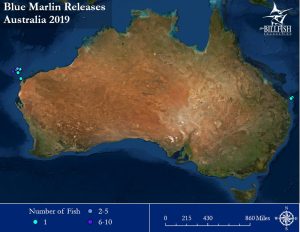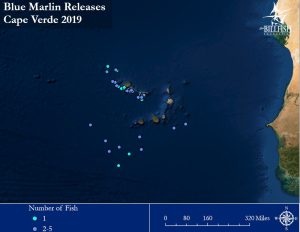 As with tagging, there was a clear seasonality to blue marlin release effort. Peaking strongly in July, it tapered evenly down until December, then crawled back up from January to June.
Recaptures:
12 total blue marlin recaptures occurred in 2019, though only 9 had complete data for mapping. All nine recaptures occurred in the North American Atlantic with the exception of two near Hawaii.
Six of the nine map-able recaptures had times at large of three or less years. However, three stood out as longer running. A five-year recapture occurred between the Bahamas and Guadeloupe (French West Indes), a six-year occurred that was both caught and recaptured off the Dominican Republic, and, most interestingly, a ten-year recapture occurred just a few miles from the original tagging location in Bermuda.
Though long recapture distances are fun to look at on a map, these short-distance recaptures tell a fascinating story regarding the reliable migratory patterns of these fish. In Bermuda, the fish was both tagged and recaptured in the summer. However, in the Dominican Republic, the fish was tagged and recaptured in spring and autumn, respectively. Sometimes, these recaptures give us more questions than answers, which is why we need more to unravel the local versus migratory nature of these fish.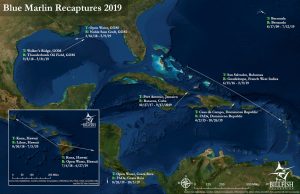 All of what the TBF Tag & Release Program does is only possible through the dedicated efforts of the anglers, mates, and captains that get out there on the water and tag and release. You are the real conservationists, and we are so grateful for you. For more information about The Billfish Foundation's Tag and Release Program, check out the tagging section of our website. To purchase tagging equipment and TBF gear, check out our online shop! To stay up to date with all things billfish, subscribe to our monthly newsletter, become a member, and follow us on social media, @TheBillfishFoundation.
https://billfish.org/wp-content/uploads/2020/04/Blue-Marlin-edited.png
1626
2070
Faith Benner
https://billfish.org/wp-content/uploads/2017/07/logo_small_color.png
Faith Benner
2020-04-17 12:47:00
2020-12-12 14:10:40
Blue Marlin Conservation Record 2019