2020 Conservation Record: White Marlin
The Billfish Foundation maintains the largest private tag and release database in the world, with 260,000 records by 150,000 anglers. In 2020 alone, TBF anglers and captains tagged, released, or recaptured 7,000 billfish and tuna across the world. Of these 7,000 new records, 270 were of white marlin. White marlin (Kajikia albida) are native only to the Atlantic Ocean. They are often confused with roundscale spearfish (Tetrapturus georgii) as the two species appear nearly identical. For that reason, most regulatory agencies combine their management. Because of this, and because identification between the two is unreliable, TBF also combines the two.
Information on how to distinguish white marlin from roundscale spearfish is available on our youtube channel. You can also click here for information on our Tag and Release Program and here to purchase tagging equipment and other TBF items.
Tags
Captains and anglers tagged 153 white marlin in 2020. On average, tagged white marlin weighed 60lbs (27.2kg) and measured 63.2in (160.5cm) long. Most were in that range, with the smallest 40lbs (18.1kg). However, there were some large outliers that weighed up to 150lbs (68kg). While tags were concentrated in the Northwest Atlantic, there were many individuals involved in their deployment. A total of 78 anglers and 41 Captains tagged white marlin in 2020. The most prolific of these were Captains Rich Barrett and Jake Farley and angler Peter Cherasia.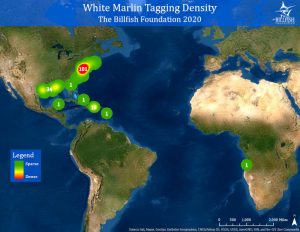 All but one white marlin was tagged in the Northwest Atlantic. The countries responsible for this effort were the USA, Bahamas, Dominican Republic, Mexico, St Croix, and the one East Atlantic in Angola. The US Mid-Atlantic produced the most tags, over 100 of the total 153. Almost all of the white marlin tagged here were less than 100lbs in size.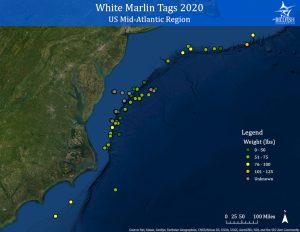 Behind the US Mid-Atlantic, the Gulf of Mexico produced the second largest number of white marlin tags. Most of these fish were concentrated in the Northern Gulf near the coasts of Louisiana and East Texas.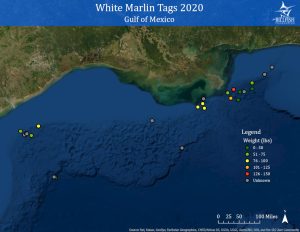 White marlin season occurs in the late summer. As a result, most tags were deployed on marlin in July and August of 2020. Almost no white marlin were tagged the rest of the year, but for a few upticks in June and September just before and after peak season.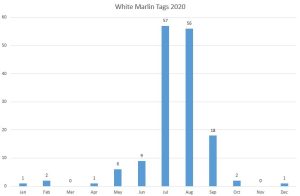 Releases
Like tags, all 116 released white marlin were in US and Caribbean waters. Only four countries were involved, including the US, Dominican Republic, St Lucia, and St Thomas. Released fish were especially concentrated, with 95 of the total 116 in one region of the US Mid-Atlantic. A total of 14 Captains and 53 anglers released all white marlin. The most prolific players were Captains Fin Gaddy and Brent Gaskill, as well as angler Harris Huddle.
Released white marlin followed the same temporal trends as tagged white marlin. Ninety-nine of the total 116 were released in August and September of 2020. Another seven were released in July leading up to peak season. The remaining ten were interspersed throughout the year, with no more than three per month.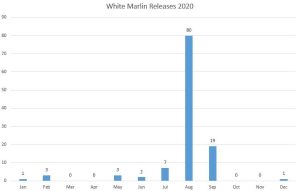 Recaptures
Only one white marlin recapture took place in 2020. The fish was tagged off Oregon Inlet and recaptured at Poor Man's Canyon after less than two months at large.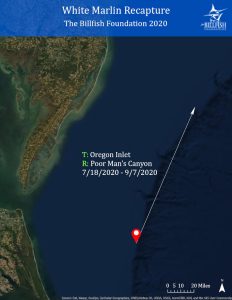 Thank you to all of the captains, mates, and anglers that tagged and released white marlin in 2020. We still have much to learn about white marlin life history, so your tagging efforts are greatly needed. To stay up-to-date with all things billfish, become a member, subscribe to our newsletter, visit our online shop, and follow us on social media, @TheBillfishFoundation.
*Please note that this review contains only data that was recorded between January 1, 2020 and December 31, 2020 and received by TBF by February 30th, 2021.
https://billfish.org/wp-content/uploads/2019/07/92-inch_White_Marlin_Mounted_Fish_Replica.jpg
360
512
Faith Benner
https://billfish.org/wp-content/uploads/2017/07/logo_small_color.png
Faith Benner
2021-04-19 11:22:43
2021-04-27 10:43:15
2020 Conservation Record: White Marlin