2020 Conservation Record: Striped Marlin
The Billfish Foundation maintains the largest private tag and release database in the world, with 260,000 records by 150,000 anglers. In 2020 alone, TBF anglers and captains tagged, released, or recaptured 7,000 billfish and tuna across the world. Of these 7,000 new records, 1,963 were of striped marlin. Striped marlin (Kajikia audax) are native only to the Pacific and Indian Oceans. They can grow up to 12ft long and over 450lbs. Information on how to identify a striped marlin can be found on our youtube channel. Thank you to everyone that tagged and released striped marlin last year. Click here for information on our Tag and Release Program and here to purchase tagging equipment and other TBF items.
Tags
An impressive 482 striped marlin were tagged in 2020. Many of these fish were tagged under charter operations, as only 31 Captains were involved, but 102 anglers. The most prolific contributors were Captains Casey Carter, Chris Workmon, and Scott Jones. The most prolific anglers were Camila Ingram, Geri Christman, and Gray Ingram.
On average, tagged striped marlin weighed 93.6lbs (42.5kg) and measured 83.3in (211.6cm). However, sizes varied from as low as 20lbs (9.1kg) to as high as 198lbs (89.8kg). Striped Marlin are native only to the Pacific and Indian Oceans. Thus, all countries involved have an Indo-Pacific coastline, including Mexico, Japan, USA, Costa Rica, Seychelles, Oman, and South Africa.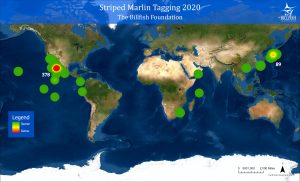 Among the countries involved in striped marlin tagging, Mexico and Japan were the most prolific. These two countries are responsible for all but only a few dozen striped marlin tags. Mexico, more specifically the Baja California region, boasts high densities of striped marlin. In fact, many winners of the striped marlin categories in the TBF Tag & Release Competition center most of their efforts in Baja and Cabo. Japan, on the other hand, boasts fewer tags but larger striped marlin on average.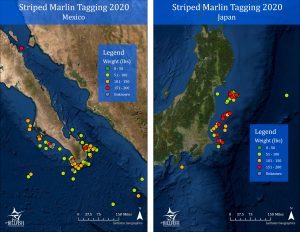 The vast majority of striped marlin tagging was in the Northern Hemisphere. Tagging was low in the early part of 2020 but spiked in the late summer and autumn before falling again.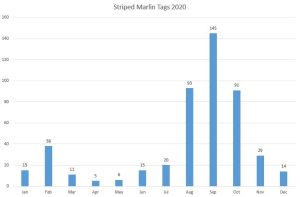 Releases
Striped marlin releases far outnumbered tags, totaling 1,483 releases in 2020. Like tags, almost all releases were in Mexico. In fact, 1,462 of 1,483 striped marlin releases were in the Baja region of Mexico. Other countries involved include the USA, Ecuador, Australia, Kenya, and South Africa. Unlike tags, no striped marlin releases occurred in Japan.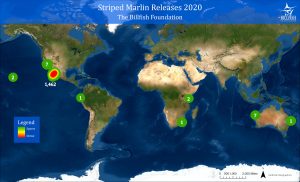 Striped marlin releases were almost nonexistent in the first half of the year. They rose in frequency beginning in July and, except for in October, numbered in the hundreds for the remainder of the year. This trend is fairly extreme and may be attributed to the COVID-19 quarantines that were especially strict in the beginning of 2020.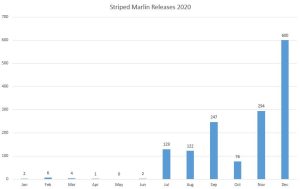 Recaptures
Five striped marlin were recaptured in 2020. However, only two of these recaptures had original tagging information. Unfortunately, this is common. If you tag fish, it is absolutely vital that you report your tags to TBF as soon as possible. Of the three orphan recaptures, two were in Japan and one was in Mexico. The two completed recaptures also took place in Japan and Mexico. This is quite expected, as, as seen above, the vast majority of striped marlin tagging effort is centered in these two countries.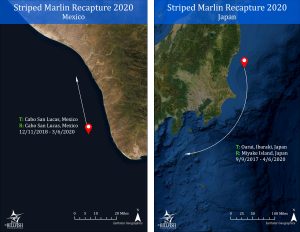 Thank you to all of the captains, mates, and anglers that tagged, released, and recaptured striped marlin in 2020. We are incredibly appreciative of everyone that helped us gather data on striped marlin in 2020, and we are excited to learn more in 2021! To stay up-to-date with all things billfish, become a member, subscribe to our newsletter, visit our online shop, and follow us on social media, @TheBillfishFoundation.
*Please note that this review contains only data that was recorded between January 1, 2020 and December 31, 2020 and received by TBF by February 30th, 2021.
https://billfish.org/wp-content/uploads/2021/04/peak-stripe.png
960
1280
Faith Benner
https://billfish.org/wp-content/uploads/2017/07/logo_small_color.png
Faith Benner
2021-04-22 09:45:30
2021-05-07 12:03:13
2020 Conservation Record: Striped Marlin