2020 Conservation Record: Black Marlin
The Billfish Foundation maintains the largest private tag and release database in the world, with 260,000 records by 150,000 anglers. In 2020 alone, TBF anglers and captains tagged, released, or recaptured 7,000 billfish and tuna across the world. Of these 7,000 new records, 74 were of black marlin. Black marlin (Istiompax indica) are one of our lesser reported species and are native only to the Pacific and Indian Oceans. They are one of the largest species of billfish, with records up to 15ft long and 1,600lbs. Information on how to identify a black marlin can be found on our youtube channel. Thank you to everyone that tagged and released black marlin last year. Click here for information on our Tag and Release Program and here to purchase tagging equipment and other TBF items.
Tags
Twenty-one anglers and eight captains from across the world came together to tag black marlin in 2020. Together, these 29 individuals administered 29 tags off Australia, Costa Rica, Panama, and the Seychelles. While they can grow much larger, tagged black marlin were on average 175.8lbs (34.4kg) and 55.5in (141cm). However, black marlin size ranged broadly, with the smallest an estimated 33lbs (15kg) and the largest 500lbs (226.8kg).
As in previous years, Australia is responsible for most of the black marlin tagging effort. More specifically, Western Australia is responsible for 22 of the 29 black marlin. In fact, Western Australia is home to all four of this year's most prolific black marlin tagging Captains: Dean Wilson, Ross Newton, Richard Worrell, and Roy Hodgkinson.
Black marlin tagging was fairly consistent throughout the year. However, because tagging numbers are fairly low, it would be hard to discern a trend even if one existed.
Releases
Over triple the number of black marlin were released versus tagged in 2020. In total, 106 black marlin were released without tags. There were also some major differences in the location black marlin were caught and released. While black marlin were still mostly released off of Australia, this time it was the East Coast doing most of the work. Black marlin were also released off Hawaii, the Seychelles, and Kenya.
Sixteen anglers and twelve Captains released black marlin last year. Anglers Deb Foster and Taylor Bills, along with Captains Jason Hedges, Jesse Hill, Richard Worrell, and Neville Kent were the most prolific. Together, these six people released 85 of the 106 total black marlin.
The comparatively large number of black marlin released unearthed a temporal trend. Of the 106 total, 77 black marlin were released in December and January. Recall that December and January are the summer in the Southern Hemisphere. As such, it is unsurprising that all but one of these December/January 77 were caught and released in summery Australian waters.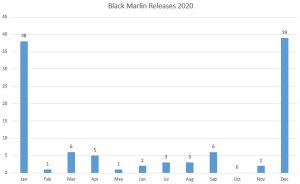 Recaptures
Only one black marlin was recaptured in 2020. At large for just under a year, it was recaptured less than 10 miles from its original tagging location off the Gold Coast of Australia.
Thank you to all of the captains, mates, and anglers that tagged and released black marlin in 2020. We still have much to learn about black marlin life history, so your tagging efforts are greatly needed. We are incredibly appreciative of everyone that helped us gather data on black marlin in 2020, and we are excited to learn more in 2021! To stay up-to-date with all things billfish, become a member, subscribe to our newsletter, visit our online shop, and follow us on social media, @TheBillfishFoundation.
*Please note that this review contains only data that was recorded between January 1, 2020 and December 31, 2020 and received by TBF by February 30th, 2021.
https://billfish.org/wp-content/uploads/2020/03/Black-Marlin-160pounds_stewart.png
2707
4222
Faith Benner
https://billfish.org/wp-content/uploads/2017/07/logo_small_color.png
Faith Benner
2021-04-01 15:12:48
2021-04-01 15:18:18
2020 Conservation Record: Black Marlin