2020 Artist of the Year: George Kalwa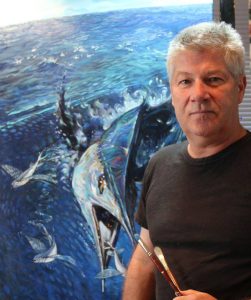 Born and raised in Baltimore Maryland, artist George Kalwa has been captivated by the ocean his entire life. An artist since birth, Kalwa began painting and making fishing lures as a child. As he grew, he spent summers drawing portraits on the Ocean City boardwalk before going to the Maryland Institute College of Art. His career as a professional artist is nothing short of remarkable. A jack of all trades, Kalwa is just as comfortable as an oil painter as he is as an award-winning broadcast video designer and animator. His chameleon-like artistry has made Kalwa a true master of his craft.
George Kalwa has always been inspired by light, contrast, and color, making his attraction to billfish and the marine world such a natural fit. From his time as a courtroom illustrator, Kalwa has the unique ability to draw things quickly, as they are happening. This ability has enabled him to create paintings that seem to move in front of your eyes, dropping you into the exact moment a blue marlin breaches the water to fight the line or a white marlin breaks the surface to capture unlucky prey. His work en plein air has made him a titan of onsite painting competitions, with his remarkable ability to communicate not just how a place looks, but how it feels.
George Kalwa spends most of his time painting billfish and sportfishing-inspired portraits and scapes. You can find him on social media @GeorgeKalwaFineArt and contact him by phone at 443-386-8966 or email at georgekalwa@comcast.net.
https://billfish.org/wp-content/uploads/2020/03/Screen-Shot-2020-03-23-at-11.21.52-AM.png
575
464
Faith Benner
https://billfish.org/wp-content/uploads/2017/07/logo_small_color.png
Faith Benner
2020-03-24 09:00:18
2020-12-12 14:43:41
2020 Artist of the Year: George Kalwa