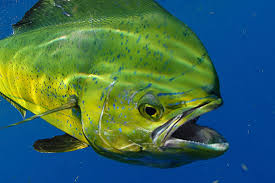 New Florida Mahi Mahi (Dolphinfish) Regulations Create Inconsistencies with Federal Regulations
Currently, the federal South Atlantic Fishery Management Council's (SAFMC) Amendment 10 for Dolphin-Wahoo allows 10 fish per person per day, with a vessel daily limit of 54. Despite being approved by NOAA, the state of Florida felt this action was insufficient and approved additional proactive conservation measures put forth by the Save the Mahi Mahi Campaign. FWC's new regulations reduce the daily bag limit of Mahi-mahi from 10 fish per person to 5 and reduce the recreational daily vessel limit from 60 Mahi-mahi to 30. The 20-inch minimum fork length size limit remains in place.
Calls for Review of Mahi Mahi (dolphin fish) Management
Inconsistencies between the federal government's Amendment 10 and the State of Florida's Mahi-mahi regulations will be reviewed at the SAFMC's June 14 – 15 meeting. The Save the Mahi Mahi Campaign, which represents thousands of anglers, will strive to persuade the SAFMC at the meeting to modify Amendment 10 to be consistent with Florida's new regulations, in addition to adding a 2,000-pound commercial daily trip limit and an expansion of the 20-inch minimum size limit throughout the U.S. Important to note, however, even if changes are approved, implementation at a federal level will not occur before early 2024. 
Implementing a federal change to the minimum dolphinfish size limit at this time may prove a timely action as ocean temperatures continue to rise and Mahi-mahi migrates further north. Currently, scientists estimate that over 60% of Mahi-mahi spawning occurs in the Atlantic Ocean off Florida, (March 09, 2021, Frontiers in Marine Science, Vol 8, Article 626082), which bodes well with the recent state regulations, but as distribution and spawning patterns theoretically alter, a minimum size throughout the remainder of the U.S. coastal states could offer protection against overfishing.  
It can be difficult to convey the need for conservation when discussing dolphinfish because of the characteristics often associated with the species. They are fast-growing and frequent spawners and can reach sexual maturity in a few short months, growing from larvae to ~18 inches (45 cm) in length. That being said, accurate and transparent stock assessment data is always the best option when determining what management efforts to put forth for a particular species. As the state of Florida pushes to help sustain the dolphinfish fishery at both the recreational and commercial levels, it will be important to continue monitoring the fishery to help maintain an effective balance between all parties. 
To stay up to date with this issue and all things billfish, become a member, subscribe to our newsletter, and follow us on social media, @TheBillfishFoundation.
https://billfish.org/wp-content/uploads/2022/05/640x427-atlantic-mahimahi.png
534
800
Peter Chaibongsai
https://billfish.org/wp-content/uploads/2017/07/logo_small_color.png
Peter Chaibongsai
2022-05-06 12:28:18
2022-05-11 14:29:32
Recent Mahi Mahi News