Hard Caps Accepted for Pacific Gillnet Fishery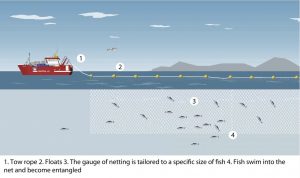 On February 7th, the National Marine Fisheries Service published a final ruling on the implementation of hard caps for drift gillnet fisheries (DGN) in the Pacific. These fisheries target thresher sharks and swordfish but have high rates of bycatch of sea turtles, whales, and billfish.
Hard caps are a bycatch upper limit (either mortality or injury) which, once met, the fishery is closed. The hard caps run on a rolling two-year schedule. This measure is an attempt to incentivize greater bycatch mitigation by drift gillnet fleets off the west coast of the U.S., which has historically seen high rates of bycatch.
While these hard caps only take into account the bycatch of whales, dolphins, and sea turtles, billfish stand to benefit as well. Greater care to decrease bycatch of whales and turtles will, hopefully, also decrease bycatch of billfish. We must give credit to the Pacific Fisheries Management Council, in which TBF maintains a presence, for their recommendation of this rule. Though it is anticipated the measure will likely be reviewed again in the future, depending on economic impact on fishery participants.
To read the full posting by the Pacific Fisheries Management Council, click here.
To stay up-to-date on all things billfish, subscribe to our monthly newsletter, become a member, check out our online shop, and follow us on social media, @TheBillfishFoundation.
https://billfish.org/wp-content/uploads/2020/05/Fish_and_Wildlife_Service_worker_on_boat_checking_gill_net_full_of_fish-scaled.jpg
1738
2560
Faith Benner
https://billfish.org/wp-content/uploads/2017/07/logo_small_color.png
Faith Benner
2020-05-01 16:00:34
2020-12-12 14:06:14
Hard Caps Accepted for Pacific Gillnet Fishery