Atlantic Bluefin Southern Area Trophy Fishery Closed to Angling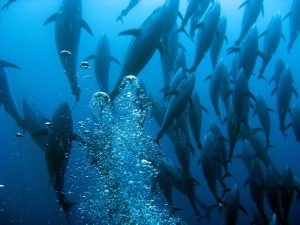 NOAA Fisheries closed the Atlantic Bluefin Tuna Angling Category for the Southern Area Trophy Fishery on March 1st, 2021. This closure will last all year, ending on December 31st, 2021. The Southern Area Trophy Fishery includes the Atlantic area south of 39°18'N lat. (off Great Egg Inlet, NJ). It does not include the Gulf of Mexico. The Angling Category includes fishermen aboard vessels with an Atlantic HMS Angling category or Atlantic HMS Charter/Headboat permit (fishing recreationally).
The 1.8-mt  Southern Area "trophy" bluefin tuna (73″ or greater) subquota has been reached and exceeded, causing the closure. Now, fishermen within the Angling Category may not retain, possess, or land "trophy" bluefin tuna in the Southern Area. Catch (or tag) and release for bluefin is still permitted, as is landing bluefin between 27″ and 73″. Note that the Southern Area is distinct from the Gulf of Mexico, where all bluefin targeting is illegal due to the importance of the region for spawning.
In 2019, this closure occurred on March 14th, while in 2020 it occurred February 20th.
To stay up to date on all things billfish and highly migratory species, become a member, subscribe to our monthly newsletter, and follow us on social media, @TheBillfishFoundation.
https://billfish.org/wp-content/uploads/2019/10/bluefin-tuna-credit-NOAA.jpg
427
570
Faith Benner
https://billfish.org/wp-content/uploads/2017/07/logo_small_color.png
Faith Benner
2021-03-02 09:13:01
2021-03-02 09:13:01
Atlantic Bluefin Southern Area Trophy Fishery Closed to Angling